Fast Delivery
To all major Australian Centres
Secure payment
For all online orders
Excellent service
Satisfaction Guaranteed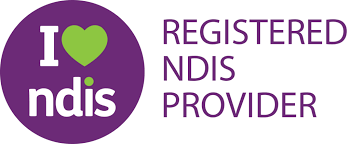 Australia's Fastest Growing Mobility Scooter Retailer
At Lifestyle Mobility, our dedication lies in delivering top-notch scooters and equipment for enhanced mobility to our cherished customers all across Australia. Our swift delivery service ensures that folks in Sydney, Melbourne, Brisbane, Adelaide, and Perth can receive their orders, all at an unbeatable price. But don't fret if you reside in more remote areas – we're here to lend a hand!
Our extensive collection of mobility scooters, power wheelchairs, and other personal mobility equipment, sourced from leading manufacturers, caters to a wide array of needs. And the cherry on top? No license, insurance, road tax, or registration (with the exception of QLD)  is necessary. Nonetheless, we strongly advise considering third-party insurance for unforeseen mishaps.
We comprehend that your purchase is a significant investment. With us, you can rest assured of continuous service and support.
Take a moment to peruse our extensive range, and don't hesitate to get in touch with us for expert guidance in choosing the ideal product to align with your unique requirements. If you're unsure where to start, be sure to consult our comprehensive Mobility Scooter Guide. Alternatively, feel free to explore the range of products below – we can't wait to assist you in elevating your mobility and enhancing your quality of life!
 Which Size is Right for You?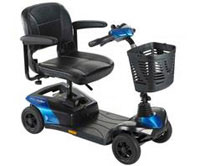 Portable scooters
They can pull apart and can be put into the boot of a car. Great for anyone who still uses a car but wants to be able to use the scooter inside a shopping centre, or for shorter trips around the park on relatively smooth surfaces.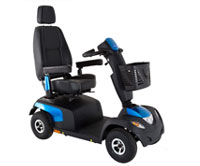 Mid-Sized Scooters
Are a budget option for anyone who is looking to be able to get out of their house and drive outdoors. These can be driven for 35km-40km on one charge!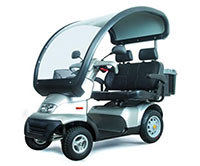 Large All Terrain Scooters
Benefit from an extra level of comfort. They come with 4 wheel suspension, can be driven for 50kms on one charge and are equipped for handling the roughest of terrain with ease.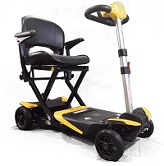 Foldable for Travel
Travel Scooters are easily transportable, they fold up and can be wheeled along like hand luggage. If you are wanting to travel on a plane or go on a cruise, these are for you! They come with lithium batteries and are aeroplane certified. Enjoy your holiday pain free with one of our Travel Scooter options.
Power Chairs
Power chairs fold up easily and can be wheeled along. They have lithium batteries and are aeroplane certified. These chairs have a fantastic turning circle. They are able to completely turn around in one position. Great for indoors as well as travelling. You can't get a better all-purpose machine. Check out our latest compact travel foldable powerchair  here.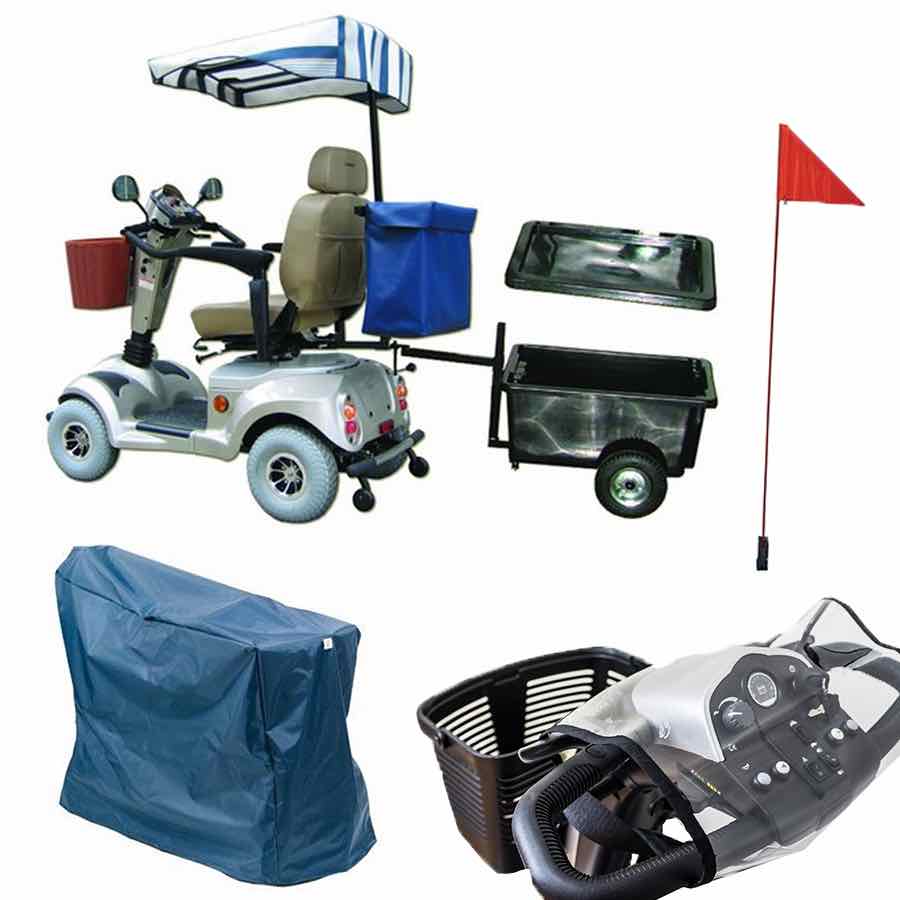 Accessories
Need a canopy for some shelter on a sunny day? How about a cover to protect your scooter from the elements? Maybe even a holder for your walking stick or umbrella? Baskets, Bags, Holders, Flags we've got all that and more. Have a look at our range of accessories to go with your chair.
Order and buy online with confidence and receive the best customer service and after support service Australia-wide
Dear Customers,
Lifestyle Mobility, an Australian-owned and operated mobility scooter retailer, has a remarkable track record of assisting 1000's of individuals in achieving a life of freedom and independence. We specialise in offering an extensive range of high-quality Electric Mobility Scooters in Australia. With a strong commitment to customer satisfaction and tailoring products to meet individual needs, our selection is carefully curated.
Within our range, you'll find versatile models that can be conveniently folded up for travel. Additionally, our inventory includes Power Chairs, mid-sized scooters, large dual seat scooters, and robust all-terrain models that enjoy significant popularity.
If you are in possession of an NDIS package, rest assured, we are here to guide you through the process of procuring the ideal mobility equipment.
For those in search of top-tier brands like Pride Mobility, Invacare, or Afikim, we have precisely the quality brands you desire.
Are you looking for information about rules and regulations in your state? Please follow the following sources.
Queensland
All of our products are of the highest standard. They are quality tested to ensure they meet all the mandatory standards prior to dispatch.
If you want help understanding the differences between a few models, here is a useful video from an american retailer that may assist you. You can simply give us a call as we carry similar models.
Delivery Options
We provide swift delivery services to major cities including Adelaide, Melbourne, Sydney, Brisbane, Darwin, Perth, and Hobart.
If you reside in regional Australia, simply give us a call, and we'll gladly chat with you about your delivery options.
Feel free to explore our website, and afterward, reach out to our friendly and well-informed team today. They'll be delighted to talk you through the advantages of each product, setting you on the path to living your best life.
Kind Regards
The Lifestyle Mobility Management Team
Contact us now
Buy a Mobility Scooter from anywhere within Australia. We have a strong focus on customer satisfaction and ensuring the product suits the individual's specific needs.
Free call:
Free scooter guide
At Lifestyle Mobility, our aim is to assist people to live a free and independent life. Download our free Scooter Guide to help you pick the best product for your needs.
Explore now!
Explore our wide range right here on our website. Our unrivalled selection ensures that we can help you find the most appropriate for you!
Quality Control
At Lifestyle Mobility your peace of mind is our peace of mind. All of our products are vigorously tested to ensure it is of the highest standard.
Each scooter is put through a range of testing. This includes; salt spray test, power test, drop test, UV exposure test, wheel alignment test, speed test, extreme hot/cold climate testing, battery testing.
Our extensive quality control measures are one of the reasons why we are one of Australia's leading retailers for Mobility Scooters. Lifestyle Mobility is a name you can trust!
Customer Service Guarantee
We deliver your product with both your safety and your mobility needs in mind. It is important that each customer has all the information needed to safely use their product. We ensure that you will always be able to use your scooter with ease and peace of mind.
At Lifestyle Mobility we provide servicing for your mobility scooter so that it will stand the test of time.We highly recommend you get your scooter serviced at least every 12 months.
Have a look at some of our client testimonials.
We also offer a manufacturers warranty. Your satisfaction is important to us and we hope to keep you as a loyal customer.