Free shipping
All Major Australian Centres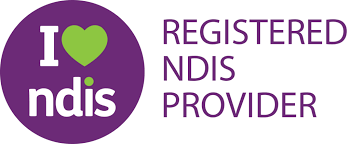 Our mobility scooter range – Place Your NDIS Orders Now
Our range of Mobility Scooters is designed for your specific needs and through our purchasing power we make them available at hard to beat prices. When you buy with Lifestyle Mobility, you can be assured that you are purchasing a high quality product, backed by warranty and supported by a national network of after sales technical support.  We also make it easy for you, because we fully assemble the product prior to it's delivery,(Note: This excludes travel scooters)  so all you need to do when it arrives is familiar yourself with it's operation and the laws in your state, and then jump on and ride! We pride ourselves on expert service and advice and offer Free Delivery to all major centres including, Sydney, Melbourne,  Adelaide, Brisbane, Perth, Darwin and Hobart.  We will happily provide regional delivery for a small fee upon request. 
 View all our different Mobility Scooter categories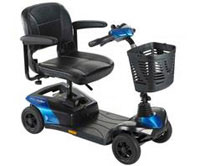 Small portable scooters
They pull apart and can be put into the boot of a car. Great for anyone who still uses a car but wants to be able to use the scooter inside a shopping centre, or for shorter trips around the park on relatively smooth surfaces.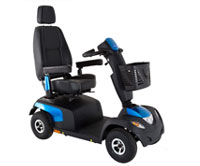 Mid-Sized Mobility Scooters
Are a budget option for anyone who is looking to be able to get out of their house and drive outdoors. The mid-sized scooters can be driven for 35km-40km on one charge!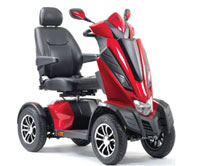 Large All Terrain Mobility Scooters
Scooters with an extra level of comfort. These scooters come with 4 wheel suspension, can be driven for 50kms on one charge and are equipped for handling the roughest of terrain with ease.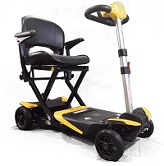 Travel Mobility Scooters
Are easily transportable, they fold up and can be wheeled along like hand luggage. If you are wanting to travel on a plane or go on a cruise, these are the scooters for you! They come with lithium batteries and are aeroplane certified. Enjoy your holiday pain free with one of our Travel Scooter options.
Power Chairs
Like the travel mobility scooters, these power chairs fold up easily and can be wheeled along. They have lithium batteries and are aeroplane certified. These chairs have a fantastic turning circle. They are able to completely turn around in one position. Great for indoors as well as travelling. You can't get a better all-purpose machine. Check out our latest compact travel foldable powerchair  here.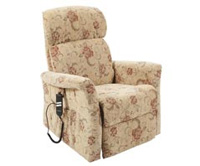 Recliner Lift Riser Chairs
The Lifestyle Mobility Recliner Lift Riser chairs are a fantastic way to maintain your independence in the home. No need to struggle to get in and out of your recliner chair anymore! The Recliner lift riser chairs automatically rise at the push of a button to enable you to get on and off of your recliner easily. They also have recliner back rest and foot rest extensions. If you want a new recliner chair in your lounge room. Get one of our Lifestyle Mobility Recliner chairs.
Dear Mobility Scooter Customers,
Here at Lifestyle Mobility Scooters,  it is business as usual, and to comply with the current COVID-19 national and state public health directions, we're doing our part to ensure the safety and well being of our customers.
Our wide network of mobility scooter warehouses are still operational, which means you can rely on us to get you the mobility scooter you are after, delivered fast to your door.
Do you have an NDIS order to make

? Now is the time. We can help.
Our delivery team can arrange quick delivery of your product right throughout Australia.
Kind Regards
The Lifestyle Mobility Scooters Management Team
Order and buy your mobility scooter online with confidence of the best customer service and after support service Australia wide
order online
Large Range, Great Prices
We are proud to stock quality scooters from Invacare, Afikim, Freedom, Trek, Pride, Luggie Freerider, Drive & More. If you are wanting more information about any product from our range, please get in touch.  Did you know that we also accept trade ins ? We have hundreds of happy customers across Australia so if you live in Adelaide, Melbourne, Sydney, Brisbane, Perth, Darwin or Hobart we'd love for you to experience a new mobility scooter from Lifestyle Mobility.
Contact us now
We specialise in a range of Mobility Scooters in Australia with a strong focus on customer satisfaction and ensuring the product suits the individual's specific needs.
Free call:
Download your free scooter guide
At Lifestyle Mobility, our aim is to assist people to live a free and independent life.
We're here for all your Mobility Scooter needs
At Lifestyle Mobility, our aim is to assist people to live a free and independent life. We specialise in a range of Mobility Scooters in Australia with a strong focus on customer satisfaction and ensuring the product suits the individual's specific needs.
Our unrivalled range of Mobility Scooters ensures that we can help you find the most appropriate product for you!
At Lifestyle Mobility Scooters Australia we deliver your mobility scooter free to all major Australian Centres including Adelaide SA, Melbourne VIC, Sydney NSW, Brisbane QLD, Darwin NT, Perth WA & Hobart TAS.
If you live in regional Australia, call us and we'll discuss your delivery options.
We make purchasing your new mobility scooter simple and easy.
Quality Control
At Lifestyle Mobility your peace of mind is our peace of mind. All our mobility scooters are vigorously tested to ensure your product is of the highest standard.
Each scooter is put through a range of testing such as – salt spray test, power test, drop test, UV exposure test, wheel alignment test, speed test, extreme hot/cold climate testing, battery testing.
Our extensive quality control measures are one of the reasons why we are one of Australia's leading brand for Mobility Scooters. The Lifestyle Range of mobility range Scooters is a name you can trust!
Customer Service Guarantee
We don't just deliver your product, we deliver with both your safety and your mobility needs in mind. We ensure that each customer has all the information needed to safely use their product. With Lifestyle Mobility we ensure that you will always be able to use your mobility scooter with ease and peace of mind.
We pride ourselves on our outstanding customer service! When you purchase a mobility aid or mobility scooter from Lifestyle Mobility we give you a follow up service after purchase to ensure you are enjoying your new mobility scooter or mobility aid.
At Lifestyle Mobility we provide servicing for your mobility scooter so that it will last you a lifetime.We highly recommend you get your scooter serviced at least every 12 months.
Have a look at some of our client testimonials.
We also offer a 3 year limited warranty on our Mobility Scooter products. We know you will be more than satisfied with Lifestyle Mobility and hope to keep you as a loyal customer.